How to Choose the Best stone Display Racks for Your Business
Time: 2023-03-21 15:13:04 Source: Quartz Stone Display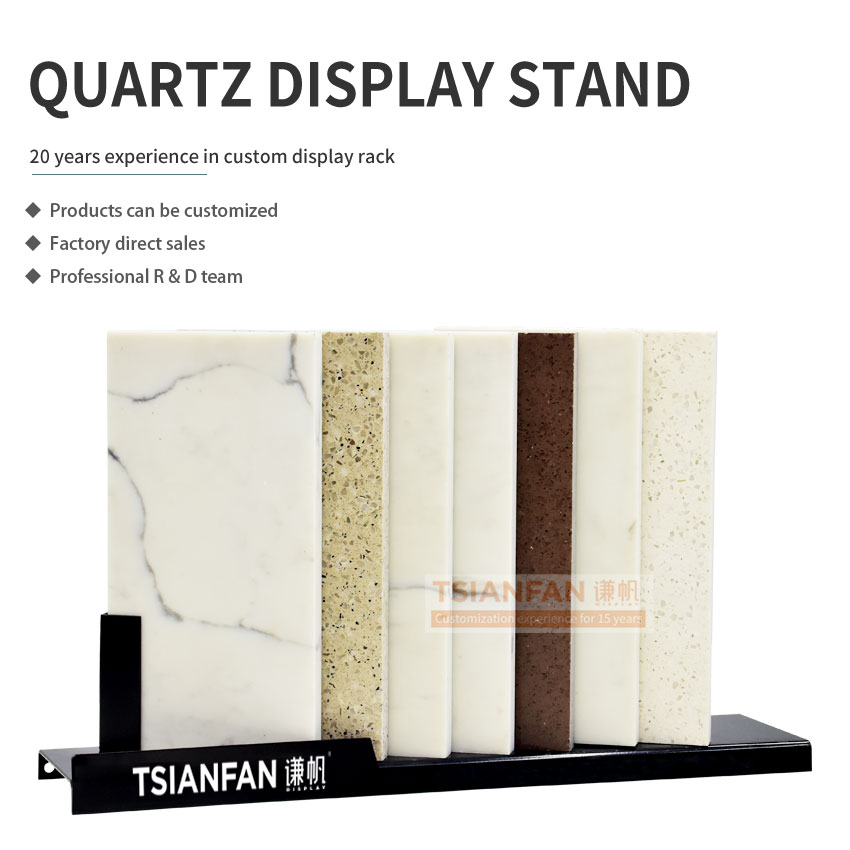 If you are in the business of selling stones, it is essential to have an efficient, organized way to display your products. stone display racks provide an effective way to showcase your stones, while also saving on space. They come in a variety of shapes and sizes and can be customized to meet your needs. Let's take a look at how you can choose the best stone display rack for your business.

stone displays come in a wide range of styles, sizes, and materials, making them ideal for businesses looking to show off their products to customers. Wall-mounted stone displays are perfect for those who don't have much floor space since they can be easily attached to the wall and feature adjustable shelves. Floor-standing racks, on the other hand, offer more flexibility as they can be moved around depending on the size of your stones. In addition, mobile stone displays are great if you need something easily transportable. They usually feature wheels and adjustable shelves that offer plenty of customization options.

Lastly, cubicle systems are great if you're looking for something more permanent as they offer multiple levels with adjustable shelves that allow you to display different types of stones in a variety of ways while also providing ample storage space for extra supplies. All these types of stone displays provide businesses with an effective way to showcase their products and stand out from competitors.

When choosing a stone display rack, several design considerations should be taken into account such as size, material type, color scheme, number of shelves/levels, and adjustability features such as removable shelves or hangers/hooks for hanging samples from walls or ceilings, etc. You also want to make sure that the display is sturdy enough to handle any heavy items that may need to be stored on it (such as large stone stones).

Additionally, it should also offer easy access so customers can quickly browse through all available options without having to move around too much or strain their eyes looking through tiny spaces between shelving units, etc. Lastly, if possible try and choose one that is easy to assemble/disassemble so if necessary it can quickly be taken apart and moved without too much hassle or effort required on your part. With so many options available when it comes to choosing the right stone display rack for your business needs, you must take time to make sure all factors are considered before purchasing one (or several) unit.

By doing some research ahead of time and considering all design elements mentioned above, along with any additional features offered by certain brands/models - such as lockable cabinets/drawers, etc - then hopefully this will help ensure that whatever type(s) chosen will suit both yours plus any customers' requirements perfectly. Ultimately the goal is always to provide customers with not only an efficient but also aesthetically pleasing way in which they can view various stone designs and select their desired choice(s) easily - thus ensuring maximum satisfaction upon completion. Happy shopping.